'The Wolf of Wall Street' FFCC Reviews
FFCC members review Martin Scorsese's The Wolf of Wall Street.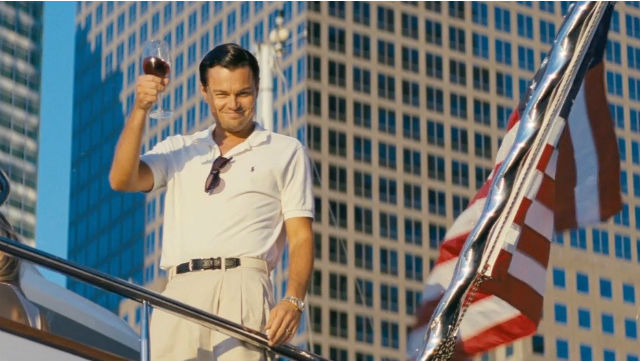 Bill Gibron – Pop Matters
"It easily trumps that equally effective imitator American Hustle and clearly proves, once again, that when handed a storyline, a source, a star, and a sense of purpose, no one can direct the shit out of something better than Martin Scorsese. Call it Greedfellas or Corporate Casino, but The Wolf of Wall Street, based on the skyrocket rise and A-bomb like fall(out) of financial conman Jordan Belfort and his Quaalude and coke fueled boiler room that seemingly begets everything bad about the '80s is one of 2013's most audacious and rewarding experiences."
Dan Hudak – Hudak on Hollywood
"Thankfully Scorsese is on top of his game, seemingly every few minutes finding something new for Jordan to take to an extreme. Because Jordan is out of control for so much of the three-hour movie we often laugh at his craziness, knowing that ribald boys will be boys. In some ways the film takes a similar structure to "Goodfellas" in that it chronicles a lavish life of grandeur that anyone would want followed by a precipitous fall. The regret in the end is not for sins committed, but rather for not covering tracks better so they can continue to be committed."
Hans Morgenstern – Independent Ethos
"There's just hardly any sense of humanity in The Wolf of Wall Street. The film feels like watching voracious garbage disposers noisily grind up refuse. You're just glad when the noise finally stops and all that trash has run its course. All you're left with, in the end, however, is a greasy residue of emptiness. One should expect more from the director who gave us Taxi Driver and Goodfellas."
Reuben Pereira – Film Frontier
"Scorsese's film is a gargantuan and sprawling American epic of greed, hedonism and all the depravity that erupts when lunatics take control of the mental asylum we call Wall Street. It's wild, hilarious, lewd, and the fastest three hours you'll spend in a movie theater this year. Scorsese's funniest film to date, The Wolf of Wall Street is simultaneously a straight up examination of the Wall Street culture as well as a scathing satire.
Steve Persall – Tampa Bay Times
"Greed is grating in The Wolf of Wall Street, Martin Scorsese's face-first motorboating of the sex, drugs and dwarf tossing of American excess. It's a three-hour movie that could make its point in two, but our greatest living American director is having too much fun filming Leonardo DiCaprio with a candle in an interesting spot."
Rene Rodriguez – The Miami Herald
"But Scorsese and screenwriter Terence Winter (The Sopranos, Boardwalk Empire) hit on the genius idea to turn the story into a riotous comedy, one that keeps topping itself everytime you think it can't possibly get crazier. Scorsese has often ventured into dark comic territory before — there are bits in Goodfellas and Casino that are as hilarious as they are horrifying, and The King of Comedy makes you laugh as often as you cringe — but he has never made a movie this free and spirited and insane and fun."
Ruben Rosario – Miami Sun Post
"Marty's made a three-hour comedy about corporate malfeasance, rampant decadence and all-American greed. Working from a tight, pay-attention-or-you'll-get-lost screenplay by Sopranos alum Terence Winter – which he adapted from Belfort's book – the Taxi Driver auteur takes in all the sights like a kid who's snuck into an adult bookstore. It's fueled by some of that GoodFellas paranoia, but the manic energy on display here recalls his work in the 80s. Think The King of Comedy and, especially, After Hours, and you'll have an idea just how revitalized his work comes across here."
Skip Sheffield – Skip Sheffield's Flix
"Scorsese insisted he wanted a hard R rating, and he got it. There is a certain shock value to seeing Jonah Hill playing Belfort's schlumpy partner-in-crime, Donnie Azoff. It comes as no surprise the reckless Belfort was eventually busted and quickly ratted his friends to reduce his sentence. Why it takes three hours to arrive at this forgone conclusion makes no sense. This is a misfire, suitable only for those looking for cheap thrills."