'Her' FFCC Reviews
FFCC members review Spike Jonze's Her.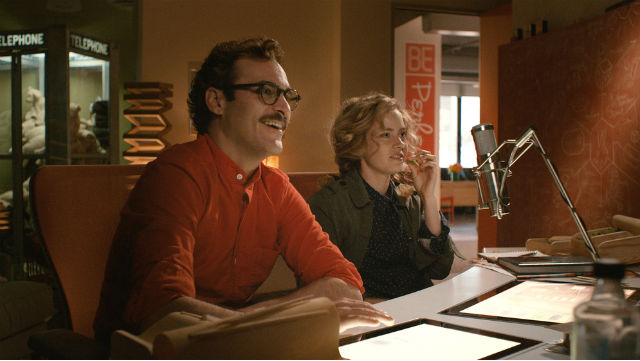 Dan Hudak – Hudak on Hollywood
"The theme of Her is consistent with Jonze's other feature directorial efforts (Being John Malkovich (1999) and Adaptation (2002)), all of which center on an individual in an existential crisis. Like the above examples, "Her" takes its ingeniously original idea and runs with it to great and unexpected heights. This may not end up foreshadowing what the future holds for the lonely hearted, but that doesn't take away from its honesty, warmth, or flawless execution."
Hans Morgenstern – Independent Ethos
"With Her, director Spike Jonze offers one of the strongest and most prescient films of his career. Using a delicate sense of humor and compassion, his fourth feature film ingeniously explores emotional territories perverted by the filter of technology to get to rather melancholy but profound truth."
Steve Persall – Tampa Bay Times
"So many things could go terribly wrong with Spike Jonze's Her, and it's a small cinematic miracle that nothing does. Jonze's handling of his jump-off premise — a man falling in love with his computer operating system — defies anything movies train viewers to expect from such ripe-for-folly concepts.Yet in its heart where it matters, Her is also as conventional a movie romance as any. Boy meets girl, who happens to be only a disembodied voice. Boy loses girl. Boy gets something discovered that, in rom-com tradition, was there all along. Jonze melds an improbable future with the ordinary now, creating a next-generation love story that moves in surprising ways."
Rene Rodriguez – The Miami Herald
"The hook in writer-director Spike Jonze's sci-fi tinged fantasy is the concept of a man (Joaquin Phoenix) falling in love with a computer operating system (voiced by Scarlett Johansson). But the film's real subject matter is the depression that follows a difficult break-up and the beautiful, painful healing process that ensues. Love hurts, even when it's virtual."
Skip Sheffield – Skip Sheffield's Flix
"And I love 'Her.' It's a line from a Beatles song and it is also the title of an oddly touching comedy-romance by director Spike Jonze (Where The Wild Things Are) from his original script. This is the first time Jonze has directed his own script, and what a wildly imaginative and emotive script it is. "Her" is a witty, thoughtful movie for anyone who has loved and lost, or for anyone who just wants someone, or even just something, to love.