2019 FFCC Winners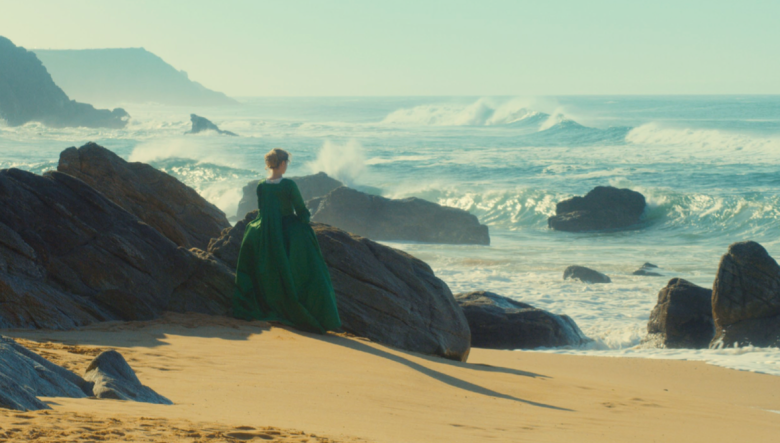 Marriage Story and Portrait of a Lady on Fire
tie for the most wins
Golden Orange bestowed upon The Tampa Theatre
Miami, FL – The Florida Film Critics Circle has awarded Portrait of a Lady on Fire its Best Picture prize. The French language period piece tied with Marriage Story for the most wins, with three recognitions apiece in a race whose awards were spread across many different movies.
While Marriage Story led the nominations in seven categories, Portrait of a Lady on Fire managed to win some of the highest honors. Director Céline Sciamma was chosen as Best Director, with Sam Mendes as runner up for 1917. Portrait also topped the Best Foreign Language category in which Parasite came in second. Marriage Story, meanwhile, swept three of the top four acting categories with Adam Driver and Scarlett Johansson winning for Best Actor and Actress, respectively, and Laura Dern narrowly beating out both Margot Robbie (Bombshell) and Isla Fisher (The Beach Bum) for Best Supporting Actress.
During the nomination phase, three other films had tied Portrait of a Lady on Fire with five nominations. Only one managed to earn a win: 1917 for Roger Deakins' cinematography, while Claire Mathon was recognized as runner up for her camera work in Portrait of a Lady on Fire. The competition was clearly between Portrait and 1917, as 1917 appeared as the runner up for both Best Picture and Best Director. Although Ad Astra and The Farewell, nominated five times, were shut out of the winners' circle, The Farewell appeared in three categories as a runner up and Ad Astra in two.
Florence Pugh was a critics' favorite, earning the Pauline Kael Breakout Award for her work in the horror movie Midsommar, the comedy/drama Fighting with My Family, and as part of the ensemble in the latest adaptation of the classic, Little Women. She was also a runner up for Best Actress. Best First Film was awarded to Queen and Slim while Best Score went to Daniel Lopatin for Uncut Gems. Meanwhile, Apollo 11 accumulated more votes than American Factory and Honeyland to win Best Documentary.
The Florida Film Critics Circle had some less conventional winners with I Lost My Body beating bigger-budgeted animated features How To Train Your Dragon: The Hidden World, not to mention the Disney sequels Frozen 2 and Toy Story 4. In a surprise, Alita: Battle Angel won for Best Visual Effects over Ad Astra and Avengers: Endgame, the only category in which the latter film was nominated.
This year, the Florida Film Critics Circle lost its founding chairman, Jay Boyar. In recognition of his work, the organization renamed its Florida-centric prize, The Golden Orange, after him. This award has a long history of honoring movies, people and places that best represent the essence of Florida filmmaking. This year's winner of the Jay Boyar Golden Orange award is The Tampa Theatre, a recently renovated historic theater and a city landmark featuring independent and foreign film. It runs on membership dues, corporate sponsorships, and donations and offers audiences a different option to big-budget, studio movies. As the founding chairman and one of the creators of Florida Film Critics Circle, Mr. Boyar had always had a love of filmmaking, especially in Florida, and we are happy to honor him by once again spotlighting one of the many treasures our state has to offer the film industry. A full list of winners and runners up follows.
The Florida Film Critics Circle is an organization of 24 writers from Florida-based print and online publications. Founded in 1996, the FFCC strives to recognize outstanding work in film, further the cause of good movies, and maintain the highest level of professionalism among film critics in Florida. Hans Morgenstern of IndieEthos.com and Miami New Times has served as chair of the organization since May 2018.
Best Picture
Portrait of a Lady on Fire
Runner up: 1917
Best Director
Céline Sciamma, Portrait of a Lady on Fire
Runner up: Sam Mendes, 1917
Best Actor
Adam Driver, Marriage Story
Runner up: Antonio Banderas, Pain and Glory
Best Actress
Scarlett Johansson, Marriage Story
Runner up: Florence Pugh, Midsommar
Best Supporting Actor
Joe Pesci, The Irishman
Runner up: John Lithgow, Bombshell
Best Supporting Actress
Laura Dern, Marriage Story
Runners up: Margot Robbie, Bombshell and Isla Fisher, The Beach Bum
Best Ensemble
Little Women
Runner up: The Farewell
Best Original Screenplay
Ronald Bronstein, Benny Safdie and Josh Safdie, Uncut Gems
Runner up: Lulu Wang, The Farewell
Best Adapted Screenplay
Greta Gerwig, Little Women
Runner up: Steven Zaillian, The Irishman
Best Cinematography
Roger Deakins, 1917
Runner up: Claire Mathon, Portrait of a Lady on Fire
Best Visual Effects
Alita: Battle Angel
Runners up: Ad Astra and Avengers: Endgame
Best Art Direction/Production Design
Once Upon a Time in Hollywood
Runner up: Ad Astra
Best Score
Daniel Lopatin, Uncut Gems
Runner up: No clear runner up
Best Documentary
Apollo 11
Runner up: Honeyland
Best Foreign Language Film
Portrait of a Lady on Fire
Runner up: Parasite
Best Animated Film
I Lost My Body
Runner up: Toy Story 4
Best First Film
Queen & Slim
Runner up: Honeyland
Pauline Kael Breakout Award
Florence Pugh, Midsommar, Fighting With My Family and Little Women
Runner up: Lulu Wang, The Farewell
Jay Boyar Golden Orange Award
Tampa Theatre