Founding FFCC Chairman Jay Boyar Passes Away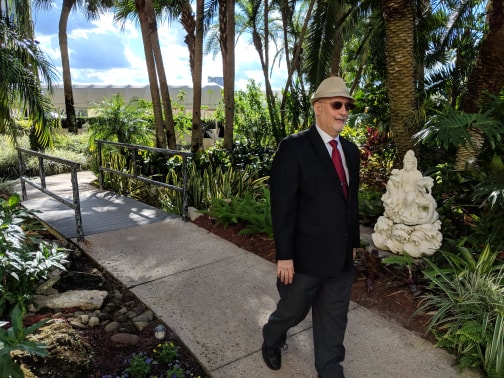 The FFCC is in mourning after the passing of one of our founding members and the organization's first chairman, Jay Boyar.
The Florida Film Critics Circles is saddened to announce the passing of one of our founding members, Jay Boyar. He was 65. According to the DeGusipe Funeral Home, "Jay Boyar died Friday, May 3, 2019, with his family by his bedside." His wife, Debbie Beckman, explained, "There were a few health issues that were compounded, at the end."
A former movie critic for the Orlando Sentinel, Boyar had moved on from criticism to teaching in his final years. He taught both film studies and writing at the University of Central Florida and Rollins College. Even as an emeritus member of the FFCC, Boyar remained active with the group. Every year, when we selected new members or chose what movies or filmmakers to recognize at the end of the year, Boyar contributed his point of view. His voice was important in the beginnings of this organization as well as up until his last year voting. "I'm not a voter; think of me as a pesterer," he once wrote when he kicked off an email to members chiming in during our debate on the best movies of 2012.
Even though the geography of the state we represent often made it difficult to know Boyar personally and in the flesh, his influence was profound. "I never met Jay," wrote FFCC member Joe Belcastro, "but will say that what I admired most about him is that though he was 'retired' from all this, he still had passion and was willing to offer guidance as the group went through different generations."
Cameron Meier contributed to the Orlando Sentinel's OrlandoCityBeat.com and currently writes reviews for the Orlando Weekly right now. "I've lived in Orlando for the last 24 years," he says, "and the name Jay Boyar was always synonymous with film criticism. For a long time, he was THE movie critic in town. Unfortunately, our paths never crossed much, and I regret that."
"He was the chair when I joined the circle in 2004," wrote Dan Hudak, also a former chair of our organization. "He made me feel welcome with open arms, eager to embrace the new, young voice in the group. I corresponded with him a handful of times through the years and always found his insights wise and from a wide perspective. It saddens me to know this mentor figure for us all is no longer with us."
The FFCC began in 1996, and emeritus member Bob Ross was also a co-founder of the group. He writes, "I recall Jay as the prime mover of our establishment as a voice for Florida critics. There were nine of us, all from major dailies. We met annually in person — imagine that — and Jay arranged the early sessions in his town. Two advantages: Members from upstate, Tampa Bay and South Florida had decent drives to Orlando, and Jay set us up to be there during the Florida Film Festival, for screenings as well as our meeting at the Enzian Theater."
Steve Persall remembers the meeting they had to start the organization. "In olden days before texting, when even email seemed like sorcery, Jay Boyar telephoned the top (newspaper only) film critics in Florida with an idea to join voices in a group to be named later," he recalls. "We gathered one Saturday in an Orlando hotel for several hours of hashing out the details, electing officers and voting on our inaugural winners list. Jay was the steady hand behind it all, from concept to our first notices in trade publications. He was our unanimous choice as leader, unchallenged, never using that platform for self-aggrandizement or imperious opinion. Jay was a class act all the way."
Hap Erstein remembers routine meetings with Boyar during the Toronto Film Festival. "One of my strongest memories about Jay, however, is his deep fear of watching film scenes in which cars back out of driveways and crash into pedestrians," he recalls. "The first time he mentioned it to me, we then watched Punch Drunk Love, which the exact thing happened. So I have inherited that phobia from him. I will miss Jay a great deal."
Boyar earned his Bachelor's in English Literature from the State University of New York at Buffalo, graduating Summa Cum Laude, notes his obituary at DeGusipe Funeral Home's website. He would go on to a successful journalism career publishing two books, Films to Go: 100 Memorable Movies for Travelers & Others, and Be a Magician! How to Put on a Magic Show and Mystify Your Friends. He was also nominated for a Pulitzer in feature writing and won the Associated Press Prize in the same category.
"Throughout our days in FFCC, Jay was a leader both practically and philosophically," says Ross. "He led the way in organizing and defining our annual awards, for example. Our little band of analog scribblers has suffered many losses over the years, but none so painful as this. Farewell, old friend."
Boyar is survived by his wife, Debbie Beckman, son Evan Boyar, and two brothers, Allen Boyar and Ben Benjamin Boyar.
A graveside service has been scheduled for Monday, May 6, at 11 a.m. at Temple Israel Cemetery, 9200 Morton Jones Road in Gotha, Florida 34734.