A memoir at one of Miami's long gone art houses: The Grove Cinema by Hans Morgenstern
FFCC member Hans Morgenstern tracked down the Fabulous Flying Fendelman Brothers to reminiscence about Coconut Grove's long gone art house movie theater, The Grove Cinema, in the Miami New Times.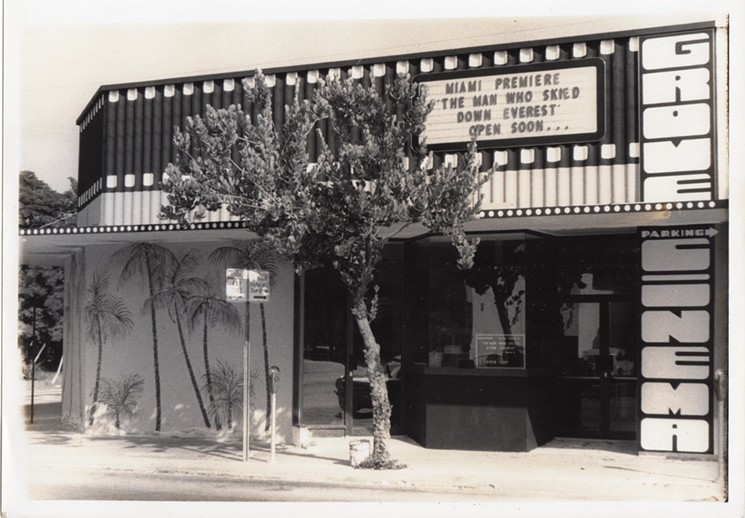 Like the small bit of concrete foundation embedded in the brick sidewalk that pokes out in an awkward triangle from under the post office wall on the corner of Grand Avenue and McDonald Street, my memories of the Grove Cinema are slight. The physical evidence of the art house is all but gone, except for a worn bit of gray cement that used to be part of a ticket window. I was an 11-year-old kid, dragged to read more subtitles during a German film by my father. The movie was Werner Herzog's Fitzcarraldo and the film's crazed and passionate lead character, played by Klaus Kinski, freaked me out like none other. I could hardly understand the heavy dialogue and the opera-loving maniac startled me to the core, ingraining a vision of once having sat in the seats of the Grove Cinema that I would have otherwise long forgotten about.
Many unforgettable movies played at the Grove Cinema, and Richard Fendelman, who ran the cinema with his younger brother, James, as the Fabulous Flying Fendelman Brothers, says he hears such stories all the time. "Everybody had their favorite movie," says the 68-year-old and pauses. "Um, of course, I don't want this on my tombstone. I've got other things I've done since then, but I think everybody remembers the lines going around the block to see Rocky Horror Picture Show."
Speaking via phone from his Asheville, North Carolina, home, his 65-year-old brother groans, "Cleaning up after Rocky Horror Picture Show, those are not fond memories."
The 1975 glam rock musical had an almost permanent presence on the theater's marquee. Richard says they started with regular screenings in 1977 on Fridays at 10 p.m. They then added a second regular screening at midnight and, later, Saturdays at midnight. But it still fell short of the demand, so they added screenings on Wednesday nights at 10 p.m. The Rocky Horror Picture Show ended up playing at the theater for 15 years, thus the Grove Cinema became known for having the longest run of Rocky Horror in the entire U.S.
(Read the rest at Miami New Times)