Records, Milestones and Feats achieved at the 2014 Oscars
FFCC member Reuben Pereira breaks down some firsts, milestones and records broken at the 2014 Oscars.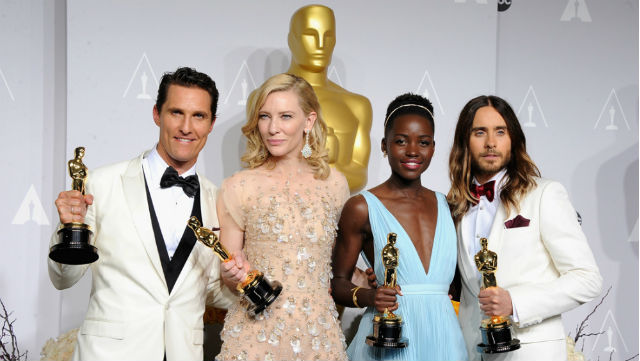 The 2013 Oscars have come and gone. 12 Years a Slave was named Best Picture whereas Gravity won the most honors of the evening. Whether the winners were deserving or not is subjective. What's not are the facts.  And here are a bunch of them I picked up from this Sunday's ceremony. 
To get the obvious one out of the way: 12 Years a Slave marked the first time in Oscar history that a movie directed by a black filmmaker (Steve McQueen) won Best Picture.
There were five credited producers who won Oscars for 12 Years a Slave, the most since 1998 when Shakespeare in Love stole Steven Spielberg's Oscar.
One of those five producers is Steve McQueen who becomes the first black man to win a Best Picture Oscar. Yea, McQueen's the man!
Another one of those producers is Brad Pitt – who now gets the advantage of calling himself an Academy Award winner. He becomes the third "Sexiest Man Alive" winner to win the Best Picture Oscar in two years (after his buddy George Clooney and Ben Affleck won last year). I'm sure Steve McQueen is thrilled about this stat.
12 Years a Slave joins Argo and Crash as the only Best Picture winners in the last 30 years to win three or less Oscars. Interestingly, all three films won Best Picture without winning the Best Director Oscar.
Okay, this is silly but 12 Years a Slave is only the third Best Picture winner to have a numeral in its title: The previous two were Around the World in 80 Daysand The Godfather Part II. No, It Happened One Night and One Flew over the Cuckoo's Nest don't count. Neither does Million Dollar Baby.
Gravity is the first film since Cabaret in 1972 to win seven or more Oscars and still not win Best Picture. Cabaret won 8 awards in 1972 but lost Best Picture toThe Godfather which, like 12 Years a Slave, won three. Coincidentally, Francis Ford Coppola's epic also won Oscars for Best Picture, Best Adapted Screenplay and an acting award.
Read the rest at Film Frontier or at Examiner.com.